Castaway Lodge Seadrift Report
By Capt. Kris Kelley
Transitional Migrations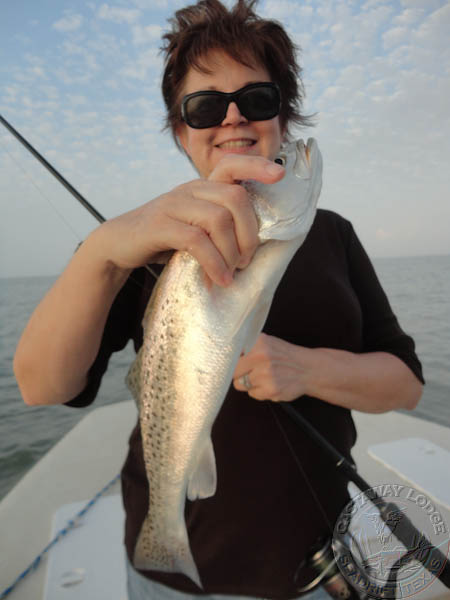 The last cool front found Trout blowing up over area shell showing signs of "things to come" as we move toward November. This is just the beginning of explosive action over area shell reefs as upper estuaries and marshes are still jam packed with forage including shrimp and shad. It's a late move, granted and we are seeing the same thing with the duck migration. Capt. Matt Raley in Prairie Du Chien, WI just opened their waterfowl season and reported heavy Blue Wing Teal numbers with little else. The cold and late Spring earlier this year seems to be pushing things deep into the Fall. We are expecting a collision between hot wing shooting for ducks along with heavy rod bending on Trout and Redgish as we move into our
Waterfowl Season.
While tides are still elevated, each passing front will be a signal for heavy bait migrations to begin heading out of the bays to the Gulf. Capt. Chris Cady reported strong numbers of Redfish entering into the back lakes and burned up the reels with part of the QS Solutions group over the weekend. Other guests of QS Solutions working shell beds found scattered Trout to 18" taking shrimp on secondary structure. Good times with these guys introducing some to their first saltwater experience. Joe M. and guests mid-week found us on the heels of hot Redfish action with Trout showing strong over shell beds.
Artificial Possibilities
With the bite turning more aggressive and Trout schooling over structure, we are seeing more willingness to take artificial lures including DOA's, Gulps, and soft plastics. Capt. James Eastep reported near limits while wade fishing area shell reefs working paddle tails off the tapers on Sunday with Stan W. and guest.
Check dates and inquire at
http://www.seadriftbayfishing.com/Calendar
Like us on
Facebook
or Pin us on
Pinterest
and we promise to "love you back"!
Capt. Kris Kelley
Castaway Lodge
1-888-618-4868
www.seadriftbayfishing.com
Facebook: Castaway Lodge
Pinterest: Castaway Lodge