Castaway Lodge Seadrift Report
By Capt. Kris Kelley
Coming off hot fishing late week, weekend action waned a little for us approaching the Full Moon. Redfish are solidly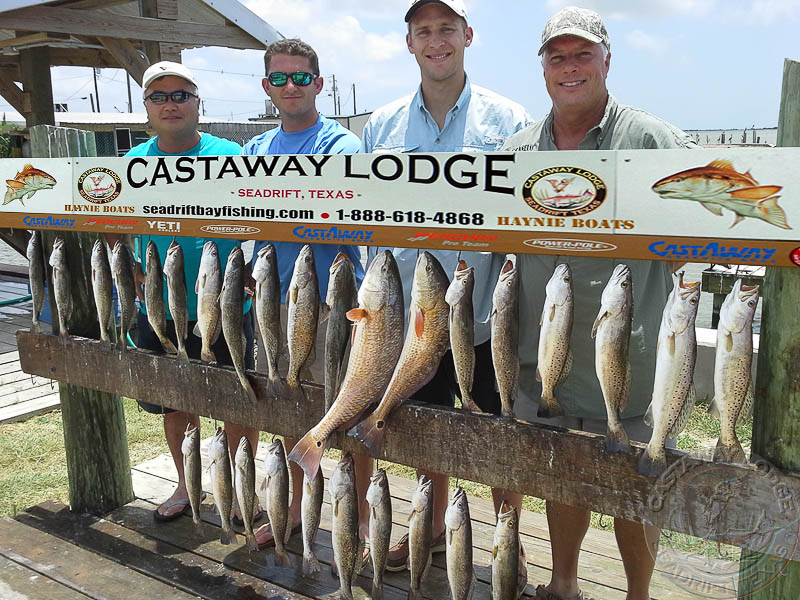 positioned on mud/grass with Capt. Chris C. taking full limits airboat Redfishing with Jed H. and guests on Friday. Trout are coming off of shell and mud/shell in San Antonio Bay. We're seeing some solid Trout but overall size seems to have fallen off a bit. We are looking for a break in the puffy winds and a little distance between us and the Full Moon phase. I've never considered it a negative "by itself" but, when a Full Moon meets a few other negatives like gutted low tides or howling winds the negatives can start to compound quickly making for a lot of challenges.
The conditions at present aren't "perfect" for those not well versed in various approaches. When Mark S. came down Saturday evening with the kiddos for their annual Spring fling I wasn't sure how the youngsters would fare. We've caught a lot of Redfish together and some of the techniques are similar but conditions are typically much more forgiving. Today's challenges showed that all the "teach-talk" paid off as I could see a lot of what they learned Redfishing playing out on a first go with Live Croaker over "sticky shell". No big homeruns to be had but the youngsters all managed some solid Trout and even their mother Mary jumped in smoking 3 in a row at one point to 18". Not every guest is well suited to the conitions that present themselves but we worked hard helping them out and making another round of memories for the guests of 10 years or so.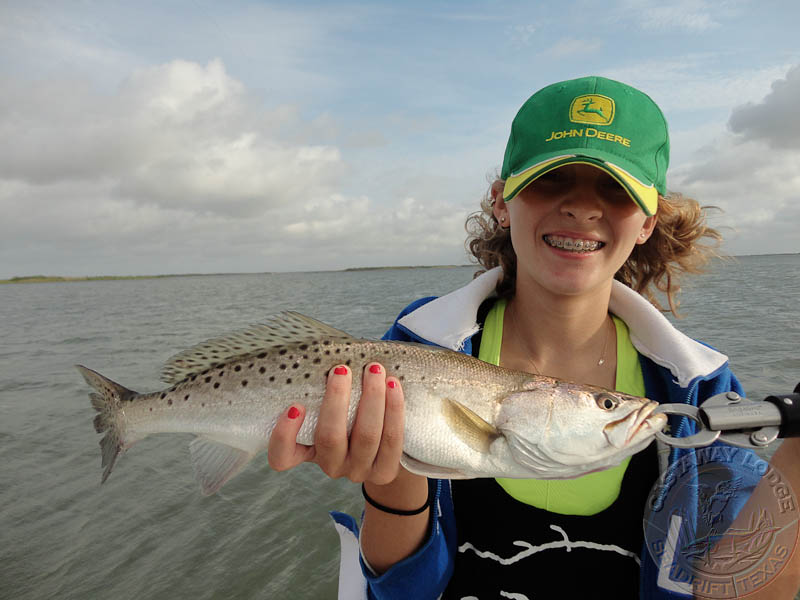 Trout just don't catch themselves and no one just shows up and "deserves" a limit. More days than not, they are earned, and typically it requires digging in and doing the work just like anything else that is rewarding. That's part of the popularity of the species no doubt. They can be the "
fish on every cast
" or "
fish of a thousand casts
" at times. While we can make it look "too easy", those are the special days for sure. Add sticky conditions; criss-crossing tides and winds; kill-shot-bring-to-bites; big winds; low water; ugly water; and, any number of other factors on a given day and you will have your hands full.
That's where we come in.
If Monday finds you off the water, we hope it's a good one. Tomorrow will find us working with some more youngsters as Greg P. and kiddos make a run at the speckled bounty.
"Like" us on
Facebook
and we promise to "love you back"!
Capt. Kris Kelley
Castaway Lodge
1-888-618-4868
www.seadriftbayfishing.com
Twitter: @Castaway_Lodge
Facebook: Castaway Lodge