Castaway Lodge Seadrift Report
By Capt. Kris Kelley

Sponsored by: Mercury Marine; Air Ranger Airboats; Haynie Bay Boats; Baysport Marine Victoria; Castaway Rods; JL Marine; Pure Fishing; and, Bob's Machine Shop.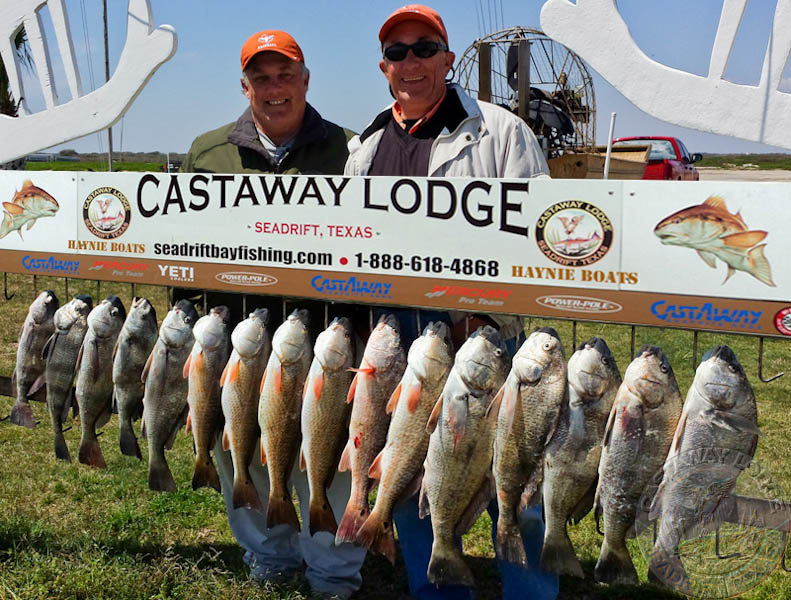 The first days of Spring and the what looks like a nice Spring tide arriving mid-week make for some great days on the water. Capt. Chris Cady reported a monster topwater bite on a trip Saturday. Fast work on Redfish in the middle slot led to nice Trout action with a big Trout encounter that left him rattled. After catching some 18-20" fish he said "the bottom dropped out from under my topwater and a huge Trout took it hard". After some big runs and tail walking she shook the hook leaving him drained. You can't catch'em all and that's probably a better release. With a Spring tide showing up and a little warming trend, we're going to quickly play catch up ball on the seasonality curve.
Big Water and Slick Bottoms
The big water push combined with a Northeast wind late week which didn't exactly light things on fire. We've got to get some Southerly compenent for it to really take off and I'm sure we will shortly. With big elevations in the tide it can push fish onto flats yet to show any emmergent grasses. A bunch of fish on a slick bottom are hard to deal with and sometimes they just don't want to bite. If I had a nickel every time I've seen that situation I'd have $20. That can be frustrating but that's just the way it goes sometimes.
Check dates and inquire at
http://www.seadriftbayfishing.com/Calendar
Like us on
Facebook
or check our
photos on
Flickr
and we promise to "love you back"!
Capt. Kris Kelley
Castaway Lodge
1-888-618-4868
www.seadriftbayfishing.com
Facebook: Castaway Lodge
Pinterest: Castaway Lodge