Castaway Lodge Seadrift Report
By Capt. Kris Kelley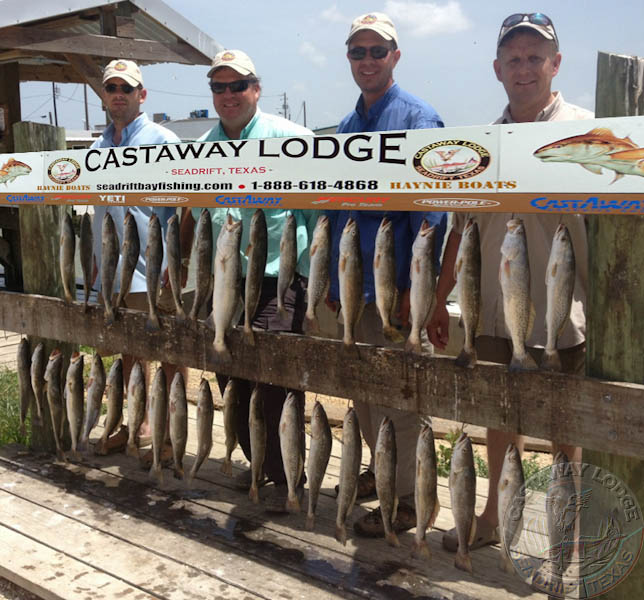 Solid Trout working over shell pads and reefs continue to impress heading into July. Limits to near limits dominated the fish boxes heading into the weekend up to 22". Winds ramped up early week making for some tough sledding over the Super Moon cycle. Trout appear to have spawned out pretty hard and we are seeing some fish that look like they've been busy dropping eggs.
Uncorked
Heading to the weekend we made another run at the Redfish Rodeo Tournament out of POC. This two day tournament found us struggling with Redfish on Day 1 but Trout to 24" kept us in the hunt. Day 2 we managed to catch our Redfish to 27" along with Trout from 17 to 19" which vaulted us from 7th to 4th in big stringer and taking 2nd in the Trout division.
Full Moon Cycles and the likes
Folks ask me alot about weather a full moon or some other "percieved negative" can hurt fishing. Over the years we've fished a ton of potentially negative conditions. Very seldom is any one negative condition going to cast a shadow on the day. What can make for tough fishing is when numerous negative conditions all coincide and pile up on a day or days. We hit some tough fishing on Monday with the peak of the moon; low water and weak tide; and, winds pushing 20 knots. That's a triple witching for sure and you will have some of those days.
Heading Into July
We are heading for more solid Trout action heading into July and wind volatility should subside. That's going to open up the Surf and some other venues mid-bay that we haven't been able to hit lately. Come see us when you get a chance!
Like us on
Facebook
or Pin us on
Pinterest
and we promise to "love you back"!
Capt. Kris Kelley
Castaway Lodge
1-888-618-4868
www.seadriftbayfishing.com
Facebook: Castaway Lodge
Pinterest: Castaway Lodge