Castaway Lodge Seadrift Report
By Capt. Kris Kelley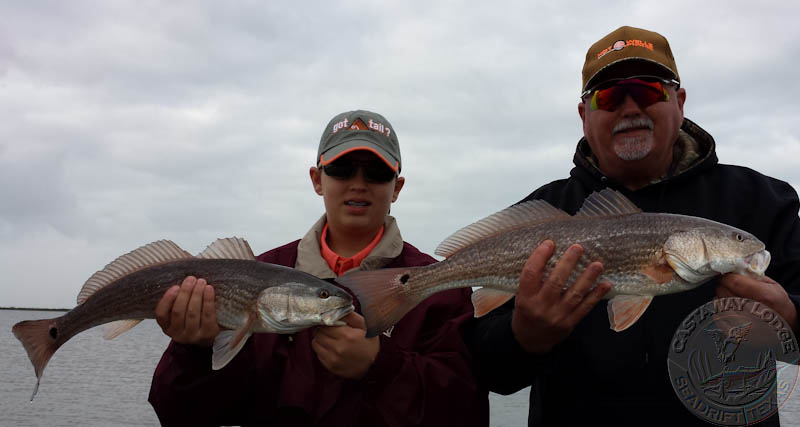 No Spring tide as of yet, water levels remain low and falling here on the back side of the full Moon. We're seeing fish make big moves during the day with areas void at times only to be chocker block a short time later. Capt. Chris made a run at Trout yesterday managing a few smalls and sparse keepers working PCS. Redfish were willing and able as Capt. James and Chris dialed them in mid-day working up near limits for one boat and half limits for another.
Sometimes when the fish get piled up and more or less trapped by low water they can turn "lock-jaw" and play hard to get. It can be a game of cat and mouse with very few secrets between the two. In other words, we know they are there and they know we are after them. Somedays these conditions work in our favor and other days not.
"It's Always Nice to Hear"
This came in from Mike O. at Diversified Steel:
"Great day fishing with Castaway Lodge. Limits of reds and near limits of drum. We threw back about 8 keeper reds and tagged a red over 28". Ms. Wendi is still the best cook on the coast! Thanks for showing my son an awesome fishing adventure that he will never forget. See ya'll soon."
Check dates and inquire at
http://www.seadriftbayfishing.com/Calendar
Like us on
Facebook
or check our photos on
Flickr
and we promise to "love you back"!
Capt. Kris Kelley
Castaway Lodge
1-888-618-4868
www.seadriftbayfishing.com
Facebook: Castaway Lodge
Pinterest: Castaway Lodge