Castaway Lodge Seadrift Report
By Capt. Kris Kelley
"Seasonal Transitions"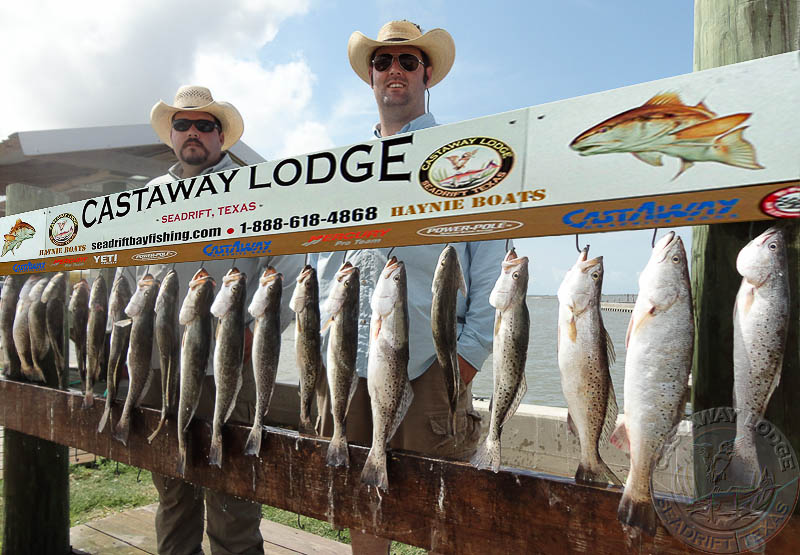 Winds backing down and bay waters starting to take on a greenish hue spelled disaster for Trout yesterday and today. Solid fish to 23" hit are hitting the boards (just as you guessed would happen if you are strapped behind a desk this week). Sure enough, yesterday's first attempt at fishing with live Croaker proved challenging but rewarding. The fairly immature baits require pin point approaches which makes for a challenging transition from covering water as with Popping Cork Shrimp (PCS) or drift fishing lures. Our first run at the baits found us hitting a "camel back" tide through most of the day. A Camel Back is two highs of little water movement back to back and it had the fishing way off early. Capt. James C. was first to draw blood and as I hauled water he pretty much caught fish to 23" on every stop, some of them right behind me. As I was leaving an area with zilch, he'd pull in and bow-up. It happens, and that's an uncomfortable shoe to wear and is one that we trade back and forth from time to time. Capt. Chris C. had focused on back country areas by airboat based on tremendous results from scouting efforts. He took down 6 solid Redfish before James and I bloodied up the ice chest.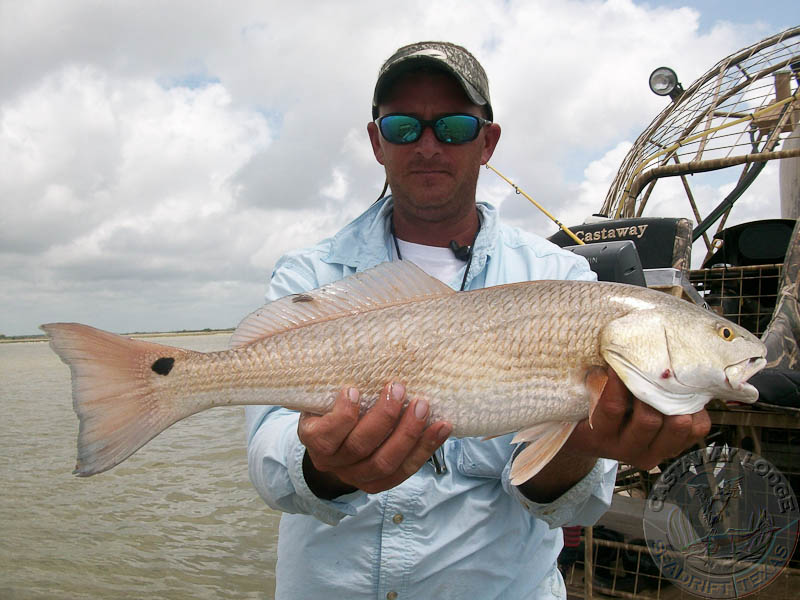 We finally broke out of our slump and started taking solid Trout to 20". We picked up a little greening water and that did the trick for us. We quickly caught up and managed to make the trip worth effort. There isn't any greater pleasure than getting folks that don't get to fish much "on the fish". Capt. Chris C. hit a big fall off in the bite but managed to take 10 solid Redfish with his group.
Based on yesterday's efforts, I made a small adjustment today and that yielded quick limits to 22" for Lane R. and guest. We've definitely got some stability on the WIX over coming days but it could sure level out just a bit more for some serious comfort level. The outlook for the weekend is cautiously optimistic with a slight pop in the winds on the forecast for Saturday but nothing too dramatic.
Like us on Facebook we promise to "love you back"! I'm also starting to Tweet a bit and you can always follow us @Castaway_Lodge
I hope that hump day has been as good to you as it was to us. Come see us when you get a chance!
Capt. Kris Kelley
Castaway Lodge
1-888-618-4868
www.seadriftbayfishing.com