Castaway Lodge Seadrift Report
By Capt. Kris Kelley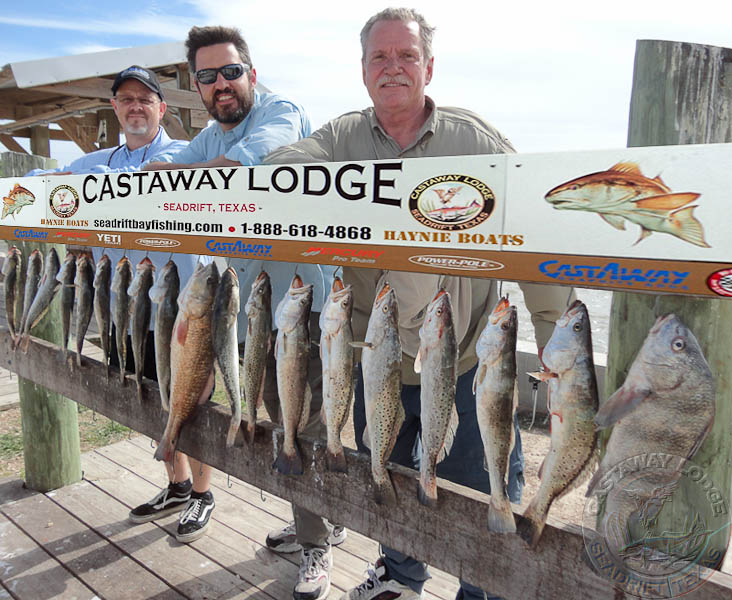 Mid week weather challenges weren't as imporessive as they were heading into the weekend with a lot of big winds ahead of the front. Trout fishing continues the "go to" for solid fish over a variety of structure including shell reefs and mud/grass. We've been struggling a little more with Redfish of late as water levels and conditions have been throwing us for a loop. However, back marsh approaches for Redfish by airboat have been yielding limits with alot of challenges.
Trout to 20" with a lot of fish over 17" have been showing of late. Saturday's trip pre-launch had winds blustery and pushing 20 knots at times. Focusing on Redfish early was very slow and taking a look at broader Trout structure I found that wind direction was holding things together despite the higher velocity. Capt. Doug was first to track them down but his guys were looking for Redfish action. Focusing on Doug's pre-defined zone had solid Trout pushing 21" coming sporadically to hand using PCS, the fish weren't taking Gulp's at all. Capt. Chris experienced a sluggish bite working back marshes by airboat but managed to come away with full limits putting in a lot of work to get it done.
The cold front saw new arrivals of ducks heading our way ahead of the weather and we are looking for some stronger action heading to the Thanksgiving stretch.
Comments from guests over the weekend include:
Kris,
I want to thank you again for an excellent fishing trip. You helped me entertain (7) seven clients at once and did it flawlessly.
You and your guides put everyone on fish. (in not so great conditions) The accommodations where clean, comfortable and relaxing.
Location, Location, Location. You kept us on schedule without any stress. Kind of like hearding cat's but I could see you've done this before.
And the food was incredible!!! We had some very specific dietary restrictions, and you guy's knocked it out of the park.
In the words of Arnold Schwartzeneger, "I'll be back"
Thanks again,
Nathan S.
Like us on Facebook and we promise to "love you back"!
Capt. Kris Kelley
Castaway Lodge
1-888-618-4868
www.seadriftbayfishing.com
Facebook: Castaway Lodge