Castaway Lodge Seadrift Report
By Capt. Kris Kelley
Back Lakes Beat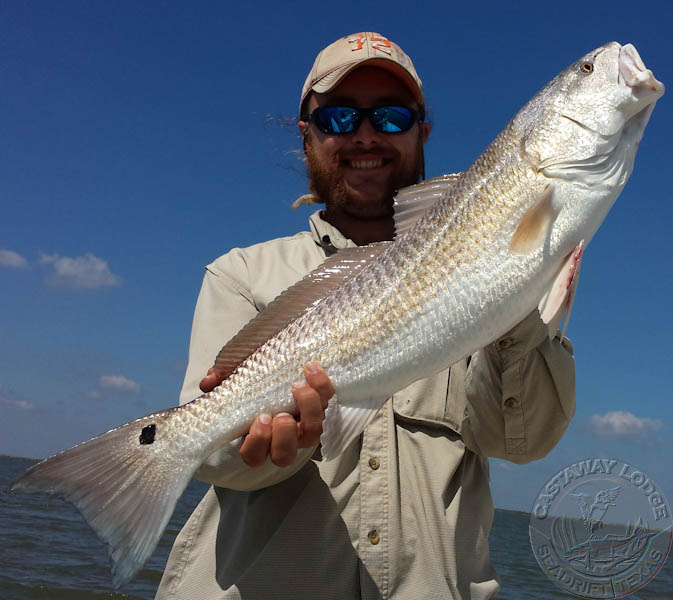 Fishing took a down turn in the heavy bull tides over the last few days. Capt. Chris Cady reported very scatterd fish and a reluctant bite by airboat. "There's so much water and just not much of anything real shallow holding fish" he reported. Guests managed hard fought limits and short boxes in recent days.
We look for all that to change if and when we get some weather to rearrange the real estate a bit. Heavy bait concentrations are still penned up in local estuaries and they are coming out. Big North winds will set that movement in motion in coming weeks and any kind of water drop is going to ignite a back lakes feeding frenzy as well as improving Trout action over area shell reefs.
Right now it's a holding pattern with scattered fish and some days better than others. Fishing James J. and guests today we managed Redfish limits to 27.75" and a relatively active bite. We were fishing soft mud windward with schools of shad being busted out of the air by active Reds. Some of the fish were just chock full of them. We welcome you to the best the mid-coast has to offer, come see us when you get a chance!
Like us on
Facebook
or Pin us on
Pinterest
and we promise to "love you back"!
Capt. Kris Kelley
Castaway Lodge
1-888-618-4868
www.seadriftbayfishing.com
Facebook: Castaway Lodge
Pinterest: Castaway Lodge